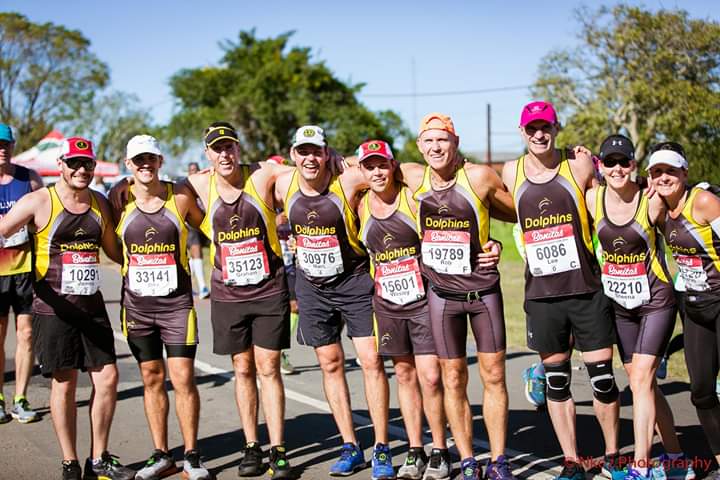 Welcome to Dolphin Coast Striders!
We are delighted that you are choosing to join or renew with our Club to be part of our thriving running community on the Dolphin Coast.
Join the Club by following these easy steps! Purchase a membership for the year, as well as an ASA license (you would need to complete that form and upload it to your purchase).  Payment is via Zapper or  Payfast. Once your order is placed, we will notify you when you can collect your license from the Clubhouse.
Code of Conduct is available on the Sign up page, as well as a link to the club constitution.
Sign up
Important information for races
Important information on how your licence and race number need to be displayed: Read Carefully
ASA Race Information
Time trial & Training
Our weekly time trial starts at our Club House every Thursday at 17:30 in winter (March – August) and 17:45 in summer (September – Feb). There are 4km and 8km routes which you are welcome to run or walk. Parking can be problematic, so it will be first come, first served with alternative parking near Mozambik. You are welcome to bring something to braai for the weekly social after time trial and we have a bar that accepts cash or Zapper payments. We have our Wozza Braai night on the last Thursday of every month at the Club House and meat is available to purchase and braai.We aim to cater for all levels of runners, from a person just wishing to finish to someone wishing to run a personal best. We have training runs every morning, except Mondays starting at 05:00 from our Club House with different groups at various running paces. Distances vary between 8km and 12km during the week and at weekends 15km and longer depending on the time of the year.
As we process your application, all members will be added to the Dolphin Coast Striders Whatapp Groups, where we have lively discussions regarding the daily training sessions, make arrangements for long runs on the weekends and discuss other events. We will also add you to the DCS Announcement Group - where we post announcements that you don't want to miss (training programme, major club events,etc.) and there are less discussions. You can choose which chat group you want to keep.
Another option is to join our Strava community for training routes.
Running Kit
Our running kit and age tags is sold only on our Website and can be collected at time trial. Our kit is available to purchase in our Shop and we accept Credit Cards and Zapper upon checkout.
All Members should wear the Club Tops when they participate, but the club shorts are optional.
Please wear any black shorts to your liking with our Club Tops. Please note that any member participating in a race in the Club Shirt, needs to purchase a license.
Shop